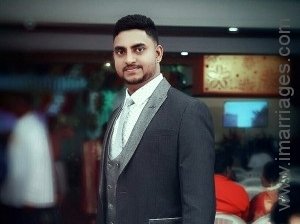 He is 30 years old
Never Married
Christian, CSI
His mothertongue is Tamil
Working in Other
Earning Rs.6 Lakh
Born in India
Living in Bangalore, India

In His Words
praise the lord. my name is Alexander k and working as a Banking Service Professional in the Private sector in Bangalore. I have completed MBA and grew up in a upper middle class. A simple guy who has firm faith on Almighty. I value the relationship and expect the same from the partner.

God fearing and simple loving and caring family members..Dad retired,Mom a homemaker, elder brother married and a younger sister.

Looking for a Simple girl who value family and respect the relationship. A very supportive and understanding partner who is ready to walk in every aspect of life.

Lifestyle and Appearance

5 ft 10 in 178 cm
Wheatish Complexion
Athletic Build

Non Vegetarian

Doesn't Smoke

Doesn't Drink

Education and Career
Employment Status
Full Time

Family
Family Status
Upper Middle Class
Father's Profession
Retired
Mother's Profession
Homemaker
Has Children Of His Own
No

Horoscope

Photos

What He Is Looking For
Age
20 - 32

Min Height
5 ft 5 in 166 cm

Body Type
Average

Marital Status
Never Married

Mother Tongue
Tamil

Religion
Christian

Caste
CSI

Diet
Non Vegetarian

Drink
No

Smoke
No

Education
Bachelors

Family Values
Moderate

Family Status
Upper Middle Class

Born In
India

Country Living In
India

State Living In
Karnataka

City Living In
Bangalore

Residential Status
Permanent Resident


Profile Managed By Friend