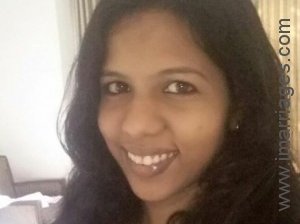 She is 31 years old
Never Married
Hindu, Nadar
Her mothertongue is Tamil
Working in Finance
Earning Rs.10 Lakh
Born in India
Living in Chennai, India

In Her Words
I am Amudha Ramakrishnan. I hail from Tirunelveli and was raised in Chennai. I completed my graduation in commerce from Ethiraj College for Women and then completed my Chartered Accountancy. I am working in finance and I want to work after marriage also. In my free time, I like reading books, travelling, watching movies, doing yoga,cycling and listening to music. I am looking for a well-educated, friendly, matured, career-wise red and understanding person as life partner.

My mother is a home maker. My brother is married and has two children. My sister in law is a home maker. We hail from Tirunelveli and are settled in Chennai.

I am looking for a well-educated, career-oriented person, who is also warm, friendly, understanding and open-minded. He should be willing to be a good friend for life.

Lifestyle and Appearance

5 ft 2 in 158 cm
Fair Complexion
Slim Build

Non Vegetarian

Doesn't Smoke

Doesn't Drink

Education and Career
Employment Status
Full Time

Family
Family Status
Upper Middle Class
Mother's Profession
Homemaker
Has Children Of Her Own
No

Horoscope

Photos

What She Is Looking For
Age
29 - 40

Mother Tongue
Tamil

Religion
Hindu

Country Living In
India


Profile Managed By Self