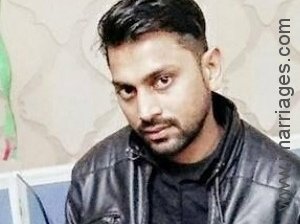 He is 27 years old
Never Married
Hindu, Brahmin, Not Specified
His mothertongue is Hindi
Working in Computers/IT
Earning Rs.7 Lakh
Born in India
Living in New Delhi, India

In His Words
I am an independent fun loving and friendly kind-hearted person, I like to travel, eager to know new technology quick learner, right now I am running my own business that deals with software and web development along with technical support.

We are of six members and we are nuclear and liberal, my father is retired but still working on extension in same government organisation and my mom is a homemaker and I am the youngest among four I. E two sisterand dey are happily married and settled. and one Elder brother who is also married.

I'm looking for an independent caring loyal and fun loving person who supports me encourage me and stands with me in my bad times and I too support her respect her and xplore the world freely and njoy the every bit of our life altogether.

Lifestyle and Appearance

5 ft 6 in 168 cm
Fair Complexion
Slim Build

Non Vegetarian

Doesn't Smoke

Drinks Socially

Education and Career
Highest Education
Bachelors
Employment Status
Full Time

Family
Family Status
Middle Class
Father's Profession
Government
Mother's Profession
Homemaker
Has Children Of His Own
No

Horoscope

What He Is Looking For
Age
18 - 29

Mother Tongue
Hindi

Religion
Hindu

Country Living In
India


Profile Managed By Self