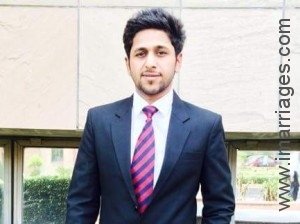 He is 26 years old
Never Married
Hindu, Agarwal
His mothertongue is Hindi
Working in Management
Earning Rs.8 Lakh
Born in India
Living in New Delhi, India

In His Words
I am an enthusiastic and ambitious person living with family in Delhi. I'm working in the telecom industry since last 03 years. I have regards for elders and family values and at the same time, encourage modern outlook too.

Our family is settled in Delhi since last thirty years. My father is retired from SBI and my mother is a teacher. Both of my elder sisters are married and settled in Delhi.

I'm looking for a like-minded person who would be able to understand my simple family values. Also, try to have a positive outlook towards life.

Lifestyle and Appearance

5 ft 7 in 171 cm
Fair Complexion
Average Build

Vegetarian

Doesn't Smoke

Doesn't Drink

Education and Career
Employment Status
Full Time

Family
Family Status
Middle Class
Father's Profession
Retired
Mother's Profession
Education
Has Children Of His Own
No

Horoscope

Photos

What He Is Looking For
Age
18 - 28

Mother Tongue
Hindi

Religion
Hindu

Country Living In
India


Profile Managed By Self