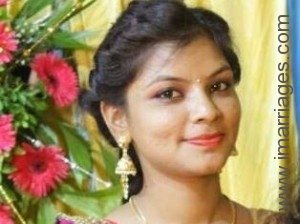 She is 28 years old
Never Married
Hindu, Other
Her mothertongue is Marathi
Working in Computers/IT
Earning Rs.4 Lakh
Born in India
Living in Mumbai, India

In Her Words
Clear minded and happy girl. Caring and loving nature with positive attitude towards life. Close to family. She is practical in nature at the same time kind at heart, who is friend to everyone.

In our family my mother is working (Father was in govt. services at reputed position). Two elder sisters out of which one is married and settled in Pune and other elder sister has studied from India's most prestigious Institute of Technology and married to software engineer who is originally from Patiala and now settled in USA and finally a younger brother who is working in Pune.

BTech in IT from Sinhgad engineering college Pune. IT engineer by profession and also ambitious for further studies.
(Cleared with her GRE and TOEFL exams).

Lifestyle and Appearance

5 ft 1 in 155 cm
Fair Complexion
Average Build

Vegetarian

Doesn't Smoke

Doesn't Drink

Education and Career
Highest Education
Bachelors
Employment Status
Full Time

Family
Family Status
Upper Middle Class
Father's Profession
Government
Mother's Profession
Government
Has Children Of Her Own
No

Horoscope

Things She Likes
Reading
Adventure • Biography • Drama • History • Informational • Mystery • Self Help
Film and TV
Action • Adventure • Bollywood • Comedy • Documentary • Drama • Family • Mystery • Romance • Science Fiction
Sport
Basketball • Hiking • Surfing • Tennis • Volleyball
Other Interests
Art • Computers • Crafts • Dancing • Gardening • Painting

Photos

What She Is Looking For
Age
28 - 35

Marital Status
Never Married

Has Children Already
No

Born In
India


Profile Managed By Sibling