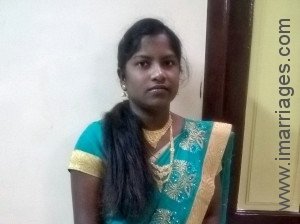 She is 25 years old
Never Married
Christian, Protestant
Her mothertongue is Tamil
Working in Nursing/Health Services
Earning No Income
Born in India
Living in Vellore, India

In Her Words
Thanks for visiting my profile I like watch movies and listening songs and I studied in Christian medical college. My hometown is located in ambur, living with my parents. At present am not working.

My family is middle-class family and nuclear family.
Have younger sister and younger brother.

My preferred life partner he should be liberal or traditional .

Lifestyle and Appearance

4 ft 8 in 143 cm
Dark Complexion
Average Build

Non Vegetarian

Doesn't Smoke

Doesn't Drink

Education and Career
Highest Education
Bachelors
Occupation
Nursing/Health Services
Employment Status
Not Employed

Family
Family Status
Middle Class
Mother's Profession
Homemaker
Has Children Of Her Own
No

Horoscope

Photos

What She Is Looking For
Age
25 - 34

Mother Tongue
Tamil

Religion
Christian

Drink
No

Smoke
No

Education
Bachelors

Country Living In
India


Profile Managed By Self