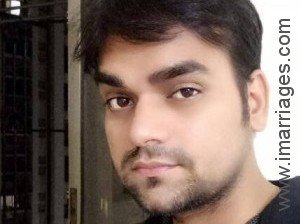 He is 28 years old
Never Married
Hindu, Brahmin, Other
His mothertongue is Bhojpuri
Working in Computers/IT
Earning Rs.7 Lakh
Born in India
Living in Mumbai, India

In His Words
I am a guy who loves sport very much- die heart fan of cricket, Table Tennis and Badminton. I love to sing and listen music in my spare time. Career Oriented- very focused towards my work.

Total there are five members in my family. Dad, Mom, one brother anr one sister.

Religion/Caste doesn't matter much what matters most is compatibility and mutual understanding.

Lifestyle and Appearance

5 ft 10 in 178 cm
Fair Complexion
Average Build

Vegetarian

Doesn't Smoke

Doesn't Drink

Education and Career
Highest Education
Bachelors
Employment Status
Full Time

Family
Family Status
Upper Middle Class
Father's Profession
Government
Mother's Profession
Homemaker
Has Children Of His Own
No

Horoscope

Photos

What He Is Looking For
Age
18 - 30

Religion
Hindu

Country Living In
India


Profile Managed By Self