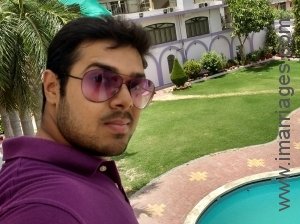 He is 28 years old
Never Married
Hindu, Brahmin, Not Specified
His mothertongue is Hindi
Working in Architecture
Earning Rs.5 Lakh
Born in India
Living in New Delhi, India

In His Words
I am a very positive person and have cheerful outlook towards life. As a person I would describe myself as a person who is mix of traditional & modern values, a warm person by heart and respect good values. Though I am a modern thinker but strongly believe in good values given by our ancestors. I love exploring new things and places, listening music and watching latest movies.

I am 27 years old, 5'11" tall, fair complexion with medium build. I have completed my Masters in Geology and presently working in a private firm as a Hydrogeologist in Delhi. We are living in our own house in South Delhi. My father is working in his own Consultancy firm as a Sr. Consultant.

I am looking for a qualified person with a service/ business background. She could be anywhere from India/ Outside India.

Lifestyle and Appearance

5 ft 10 in 178 cm
Fair Complexion
Average Build

Non Vegetarian

Doesn't Smoke

Doesn't Drink

Education and Career
Employment Status
Full Time

Family
Family Status
Middle Class
Father's Profession
Management
Mother's Profession
Homemaker
Has Children Of His Own
No

Horoscope

Photos

What He Is Looking For
Age
25 - 36

Mother Tongue
Hindi

Religion
Hindu

Country Living In
India


Profile Managed By Self