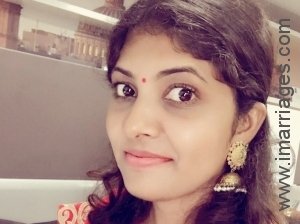 She is 30 years old
Never Married
Hindu, Devendra Kula Vellalar
Her mothertongue is Tamil
Working in Computers/IT
Earning Rs.7 Lakh
Born in India
Living in Bangalore, India

In Her Words
About myself, I am working for an IT company as a Service Level Manager. About family, my father(late) was a retired teacher. My mother is retired(Teacher) as well. I have one elder brother who is married and working in IT.

As an individual I would want to maintain a healthy work life balance. I love to involve myself with family affairs and want to keep a balance between work, family and Friends. I strongly believe in god and I am a traditional come modern personality. I like to travel and explore new places, I love trekking and I am a Runner and a fitness freak.

I am looking for a soulmate, who is understanding, caring, down to earth, lives and enjoys every moment of life, who will be my best friend for life the "Mr. Cool".

Lifestyle and Appearance

5 ft 4 in 163 cm
Fair Complexion
Average Build

Vegetarian

Doesn't Smoke

Doesn't Drink

Education and Career
Employment Status
Full Time

Family
Family Status
Upper Middle Class
Father's Profession
Retired
Mother's Profession
Retired
Has Children Of Her Own
No

Horoscope

Things She Likes
Music
Blues • Bollywood • Jazz
Reading
Fairy Tale • Fantasy • Mystery • Romance • Thriller
Film and TV
Bollywood • Comedy • Fantasy • Horror
Sport
Hiking • Swimming
Other Interests
Camping • Cooking • Dancing • Fashion • Photography

Photos

What She Is Looking For
Age
30 - 34

Marital Status
Never Married

Religion
Hindu

Employment Status
Full Time


Profile Managed By Self