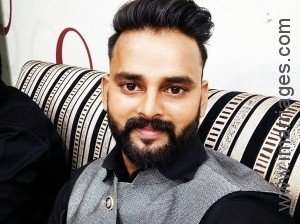 He is 26 years old
Never Married
No Religion, No Religion
His mothertongue is Punjabi
Working in Architecture
Earning Rs.3 Lakh
Born in India
Living in Jalandhar, India

In His Words
I am a very simple, soft spoken, god fearing, caring, talented, understanding, trustworthy and kind hearted human being. I believe in the motto 'Live and let live'. I hate liars.

I am fun loving, down to earth and very much Optimist. I enjoy life to the fullest & love humour. I am a progressive thinker & respect each person's space & values.

I am modern thinker but also believe in good values given by our ancestors.

I come from an middle class family.

I'm looking loyal, responsible and caring life partner.

Lifestyle and Appearance

5 ft 5 in 166 cm
Fair Complexion
Average Build

Non Vegetarian

Doesn't Smoke

Doesn't Drink

Education and Career
Highest Education
Bachelors
Employment Status
Full Time

Family
Family Status
Middle Class
Father's Profession
Service
Mother's Profession
Homemaker
Has Children Of His Own
No

Horoscope

Photos

What He Is Looking For
Age
18 - 28

Mother Tongue
Punjabi

Religion
No Religion

Country Living In
India


Profile Managed By Self