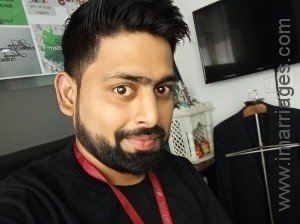 He is 27 years old
Never Married
Hindu, Kshatriya
His mothertongue is Hindi
Working in Computers/IT
Earning Rs.7 Lakh
Born in India
Living in New Delhi, India

In His Words
I am Deepesh Working in an IT company as a project leader. I love to travel and having good sense of humor. I love to cook.

I lice with my mom and brother. My mother is a homemaker and brother is working as an assistant manager in pvt company.

I'm looking for a girl who can take good care of my family ans mine. She should be very frank and open-minded. my family has no probem if she wants to work.

Lifestyle and Appearance

5 ft 10 in 178 cm
Fair Complexion
Average Build

Eggetarian

Doesn't Smoke

Doesn't Drink

Education and Career
Highest Education
Bachelors
Employment Status
Full Time

Family
Family Status
Middle Class
Mother's Profession
Homemaker
Has Children Of His Own
No

Horoscope

Photos

What He Is Looking For
Age
18 - 29

Mother Tongue
Hindi

Religion
Hindu

Caste
Kshatriya

Country Living In
India


Profile Managed By Self