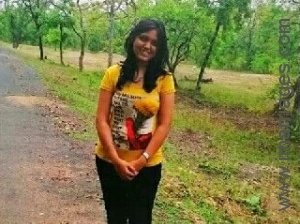 She is 29 years old
Never Married
Hindu, Teli
Her mothertongue is Marathi
Working in Law
Earning Rs.2 Lakh
Born in India
Living in Nagpur, India

In Her Words
I am Deepali Malewar willing to achieve better prospects in my career and willing to enjoy life Happily. I have done with Bsc, MIRPM, LLB and currently pursuing Company Secretary final exam and done vth Training of the same,,,, currently practising in District and High Court and also in search of job.

My family consist of Eight members includes Mom, Dad, 2 sisters, Brother, Bhabhi and niece.

I'm seeking a partner who is qualified and Great Companion of me through out my life. Caste doesn't matters for me.

Lifestyle and Appearance

5 ft 6 in 168 cm
Fair Complexion
Slim Build

Vegetarian

Doesn't Smoke

Doesn't Drink

Education and Career
Employment Status
Not Employed

Family
Family Status
Middle Class
Mother's Profession
Homemaker
Has Children Of Her Own
No

Horoscope

What She Is Looking For
Age
29 - 38

Mother Tongue
Marathi

Religion
Hindu

Country Living In
India


Profile Managed By Self