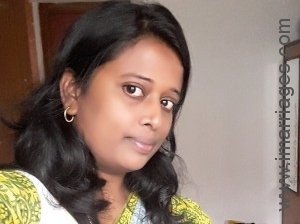 She is 33 years old
Divorced
Hindu, Adi Dravida
Her mothertongue is Tamil
Working in Administrative
Earning Rs.2 Lakh
Born in India
Living in Coimbatore, India

In Her Words
My self devi. I am expecting good life partner in my life. Who one ready to accepting me and my son that person only contact me. I need well educated and setteld person. Coimbatore or abroad worker ready to accept

My mother passed away. Father retired person I have one elder brother

I would like to meet someone who one give to me good family life I am waiting for him.

Lifestyle and Appearance

5 ft 153 cm
Wheatish Complexion
Average Build

Non Vegetarian

Doesn't Smoke

Doesn't Drink

Education and Career
Highest Education
Bachelors
Employment Status
Full Time

Family
Family Status
Middle Class
Father's Profession
Government
Has Children Of Her Own
Yes - Living Together

Horoscope

Photos

What She Is Looking For
Age
33 - 42

Mother Tongue
Tamil

Religion
Hindu

Country Living In
India


Profile Managed By Self