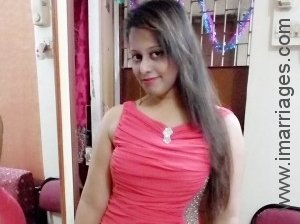 She is 33 years old
Divorced
Christian, Roman Catholic
Her mothertongue is Konkani
Working in Service
Earning Rs.3 Lakh
Born in India
Living in Mumbai, India

In Her Words
I am Genevieve I have applied for mutual divorce and will get the final degree in August 2018.

I stay with my Granny and my Mother. I am the only child my parents are separated.

I would prefer my partner should be non smoker and occasionally drinking is ok. I am looking out for a partner who is understanding, loving, caring and jolly like me.

Lifestyle and Appearance

5 ft 2 in 158 cm
Fair Complexion
Athletic Build

Non Vegetarian

Doesn't Smoke

Doesn't Drink

Education and Career
Highest Education
Bachelors
Employment Status
Full Time

Family
Family Status
Middle Class
Father's Profession
Retired
Has Children Of Her Own
No

Horoscope

Photos

What She Is Looking For
Age
33 - 42

Mother Tongue
Konkani

Religion
Christian

Country Living In
India


Profile Managed By Parent/Guardian