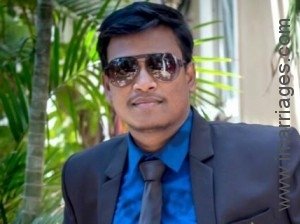 He is 31 years old
Never Married
Hindu, Gounder
His mothertongue is Tamil
Working in Management
Earning Rs.4 Lakh
Born in India
Living in Chennai, India

In His Words
I am from an upper-middle-class family. I always respect and support good values. I love exploring new things and places. I love spending quality time with my family and friends.

My family is originally from Villupuram. Ours is an upper-middle-class family with traditional values. My father is retired from Aavin and my mother is a homemaker. I have one sister (married) and brother (married).

I think for me, I would want someone kind, intelligent and does not take themselves too seriously.

Lifestyle and Appearance

5 ft 8 in 173 cm
Fair Complexion
Average Build

Non Vegetarian

Doesn't Smoke

Doesn't Drink

Education and Career
Employment Status
Full Time

Family
Family Status
Upper Middle Class
Father's Profession
Retired
Mother's Profession
Homemaker
Has Children Of His Own
No

Horoscope

Things He Likes
Music
Classical • Dance • Easy Listening • Folk • Pop • Soft Rock
Reading
Adventure • Humor • Romance • Thriller
Film and TV
Action • Comedy • Horror • Romance • Thriller
Sport
Cricket • Darts • Tennis
Other Interests
Computers • Cooking • Crafts • Gardening

Photos

What He Is Looking For
Age
18 - 29

Marital Status
Never Married

Mother Tongue
Tamil

Has Children Already
No

Religion
Hindu

Manglik
No

Drink
No

Smoke
No

Country Living In
India


Profile Managed By Self