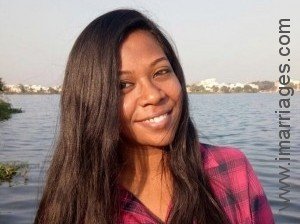 She is 27 years old
Never Married
Hindu, Valluvan
Her mothertongue is Tamil
Working in Management
Earning Rs.5 Lakh
Born in India
Living in Bangalore, India

In Her Words
About me love independence at the same time I like to get the support from my well wishers. I am working as a hr manager in a it company, have a desire to work in aboard for sometime.
I like travelling,reading books, exploring new things. Little fun and adventurous type of girl.
Though I am a ultra moder type of girl I do follow our traditions.

Dad is a business man mom house maker sister is married and resides in Bangalore brother is in Cambodia and we are in search of girl for him as well. I am blessed with a great family who always stood by me on all my desires and dreams and have been there for me as friends.

I do prefer a Tamil Hindu guy, doesn't mean I am against other religion or cast I want to make it up to my parents and their preferences are important in the matter of marriage. I wish my partner should be a person filled with the thirst to explore the life at its extent.

Lifestyle and Appearance

5 ft 1 in 155 cm
Wheatish Complexion
Average Build

Non Vegetarian

Doesn't Smoke

Doesn't Drink

Education and Career
Employment Status
Full Time

Family
Family Status
Upper Middle Class
Mother's Profession
Homemaker
Has Children Of Her Own
No

Horoscope

Photos

What She Is Looking For
Age
28 - 31

Min Height
5 ft 2 in 158 cm

Body Type
Average

Marital Status
Never Married

Mother Tongue
Tamil

Has Children Already
No

Religion
Hindu

Manglik
No

Diet
Non Vegetarian

Education
Bachelors

Employment Status
Full Time

Annual Income
Rs.10 Lakh

Country Living In
India


Profile Managed By Self