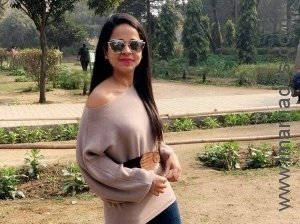 She is 28 years old
Never Married
Hindu, Khatri
Her mothertongue is Hindi
Working in Education
Earning Rs.18 Lakh
Born in India
Living in New Delhi, India

In Her Words
Hey, I am putting up this profile on behalf of my daughter. She is a perfect blend of modern and traditional values. She is a very fun loving and adjusting girl. We look forward to having a new addition to our family.

Ours is a nuclear and loving family. Father is into business. My mother is a homemaker. Both elder twin sisters are married and settled.

We are looking forward to a new family member in our family. He should be understanding and caring.

Lifestyle and Appearance

5 ft 3 in 161 cm
Wheatish Complexion
Average Build

Non Vegetarian

Doesn't Smoke

Doesn't Drink

Education and Career
Employment Status
Full Time

Family
Family Status
Upper Middle Class
Mother's Profession
Homemaker
Has Children Of Her Own
No

Horoscope

Photos

What She Is Looking For
Age
28 - 37

Mother Tongue
Hindi

Religion
Hindu

Country Living In
India

State Living In
Delhi


Profile Managed By Parent/Guardian