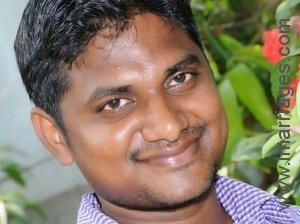 He is 26 years old
Never Married
Christian, Pentecost
His mothertongue is Telugu
Working in Management
Earning Rs.4 Lakh
Born in India
Living in Machilipatnam, India

In His Words
I am karuna raju katikala from machilipatnam I have done MBA and llB am running a business, real estate consultancy. I need agirl who UNDERSTANDS me lot. And she should be well-educated.

My father pastor my mother housewife two sisters both are married.

I need a girl who understand me well. And she must be educated.

Lifestyle and Appearance

5 ft 6 in 168 cm
Dark Complexion
Athletic Build

Non Vegetarian

Doesn't Smoke

Doesn't Drink

Education and Career
Employment Status
Full Time

Family
Family Status
Middle Class
Mother's Profession
Advertising/Marketing
Has Children Of His Own
No

Horoscope

What He Is Looking For
Age
18 - 28

Mother Tongue
Telugu

Religion
Christian

Country Living In
India

State Living In
Andhra Pradesh


Profile Managed By Self