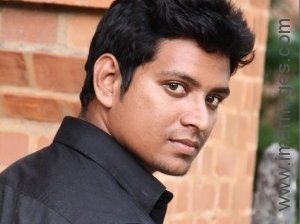 He is 30 years old
Never Married
Hindu, Vanniyakullak Kshatriya
His mothertongue is Tamil
Working in Computers/IT
Earning Rs.5 Lakh
Born in India
Living in Chennai, India

In His Words
I am creating this profile for myself and i am from middle class family, Currenty working in Wipro tech as a senior execuive. I always respect and support good values. I love exploring new things and places, and also watching documentaries and latest movies. Again i am so jovial character and i can esaily mingle with people wherever i go. Finally and more imp i love to spend quality time with my family and friends.

We are four members in our family . My father is advocate and my mother previously working in all India radio right now she s home maker and I have one elder brother he is working HCL as project manager nd he got married 5 years back. For the past 40 years we are living in Chennai new washermenpet . Thank you for visiting my profile.

I am looking for my better half. I will be more true and more supportive throughout my life and i am expecting the same for me nd my family.
Thank you for visiting my profile all the best .

Lifestyle and Appearance

5 ft 9 in 176 cm
Fair Complexion
Average Build

Non Vegetarian

Doesn't Smoke

Doesn't Drink

Education and Career
Employment Status
Full Time

Family
Family Status
Middle Class
Mother's Profession
Homemaker
Has Children Of His Own
No

Horoscope

Photos

What He Is Looking For
Age
19 - 31

Mother Tongue
Tamil

Religion
Hindu

Country Living In
India


Profile Managed By Self