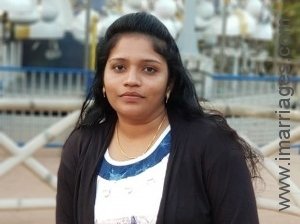 She is 28 years old
Divorced
Christian, Pentecost
Her mothertongue is Tamil
Working in Nursing/Health Services
Earning Rs.4 Lakh
Born in India
Living in Thoothukudi, India

In Her Words
I am ambitious, broad-minded, and fun loving girl. I am studied B. Sc nursing. Now I am working one company as a nurse. I love traveling and plan to settle abroad.

My father passed away 21years back. My mom is a business women. I have one elder sister. She have three children and well-settled

I'm looking for loving, caring and friendly person.

Lifestyle and Appearance

5 ft 3 in 161 cm
Wheatish Complexion
Average Build

Non Vegetarian

Doesn't Smoke

Doesn't Drink

Education and Career
Highest Education
Bachelors
Occupation
Nursing/Health Services
Employment Status
Full Time

Family
Family Status
Middle Class
Has Children Of Her Own
No

Horoscope

What She Is Looking For
Age
28 - 37

Mother Tongue
Tamil

Religion
Christian

Country Living In
India


Profile Managed By Parent/Guardian