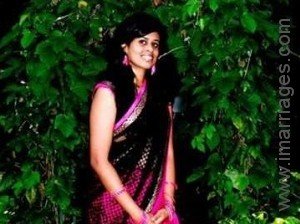 She is 30 years old
Never Married
Hindu, Chettiar
Her mothertongue is Tamil
Working in Office Administration
Earning Rs.10 Lakh
Born in India
Living in Bangalore, India

In Her Words
I am looking forward to meet my life partner. People describe me as smart and I respect elders and values. Looking for a friend whom I can share my life with.

Parents are understanding and are well-settled.

I would like to meet someone who is loving caring and affectionate .

Lifestyle and Appearance

5 ft 5 in 166 cm
Fair Complexion
Slim Build

Vegetarian

Doesn't Smoke

Doesn't Drink

Education and Career
Occupation
Office Administration
Employment Status
Full Time

Family
Mother's Profession
Homemaker
Has Children Of Her Own
No

Horoscope

Photos

What She Is Looking For
Age
30 - 39

Mother Tongue
Tamil

Religion
Hindu


Profile Managed By Self