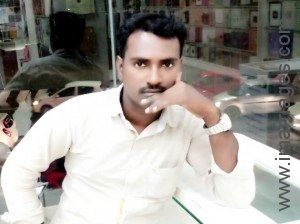 He is 30 years old
Never Married
Hindu, Nadar
His mothertongue is Tamil
Working in Education
Earning Rs.4 Lakh
Born in India
Living in Chennai, India

In His Words
My son is working as PGT MATHS in kolaperumal CBSE school.( chennai). He has completed M. Sc, M. Ed, Ctet qualified. Earlier worked as vice principal in la chatelaine cbse school. We Were settled in Chennai and own a house in chennai and thoothukudi.

I have two sons. One son completed CA and working in SPIC. He got married and blessed with a baby girl. My younger son and my wife are in velachery. He owns property near Chengalpattu and car.
He completed bsc maths in loyola, m. Sc in A. I'm jain college and B.Edand m. Ed in vels university.

Traditional family with modern outlook. One brother married.

Looking for partner in Tamil Nadu with Nadar caste. Should complete a degree. She can Gofor job or not it depends upon the time factor and her decision.

Lifestyle and Appearance

5 ft 7 in 171 cm
Wheatish Complexion
Average Build

Non Vegetarian

Doesn't Smoke

Doesn't Drink

Education and Career
Employment Status
Full Time

Family
Family Status
Upper Middle Class
Father's Profession
Administrative
Has Children Of His Own
No

Horoscope

Photos

What He Is Looking For
Age
19 - 31

Mother Tongue
Tamil

Religion
Hindu

Country Living In
India


Profile Managed By Self