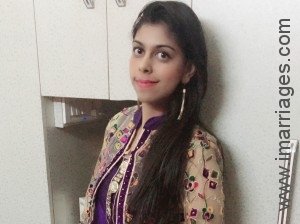 She is 23 years old
Never Married
Other, Other
Her mothertongue is Hindi
Working in Education
Earning Rs.50,000
Born in India
Living in New Delhi, India

In Her Words
I am an open-minded moderate come simple girl looking for a life partner. I studied Eng hons from Amity University and am a Writer from past six years and currently switching to a teaching profession. I live with my parents, love to cook and travel. I am more inclined towards my family than friends because for me they are my friends.

I want to be teacher in near future and I am also studying french. I expect that my in laws allow me to work be it a job or in my husband's/family business as I help dad in his business often.

I am a caring person and when I love someone I love them from the core if my heart. Just looking for the righteous to carry a girl like this. :)

My family is more traditional than moderate. My dad is a businessman and my mom is a homemaker. I have a younger brother and sister. My family is a great blend of societal and family values what they have given me too.

We are a very simple family down to the earth and looking for the same.

I want my ideal partner to be a man of his words, a little proudy but more grateful for what he has. He must be a respectful person and know to respect others also.

We belong to a radha soami family and if my ideal partner belongs to the same, it would be given a great preference.

Lifestyle and Appearance

5 ft 5 in 166 cm
Wheatish Complexion
Slim Build

Vegetarian

Doesn't Smoke

Doesn't Drink

Education and Career
Highest Education
Bachelors
Employment Status
Contract

Family
Family Status
Middle Class
Mother's Profession
Homemaker
Has Children Of Her Own
No

Horoscope

What She Is Looking For
Age
23 - 32

Mother Tongue
Hindi

Religion
Other

Country Living In
India


Profile Managed By Self