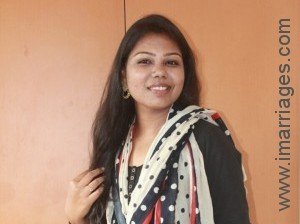 She is 30 years old
Never Married
Hindu, Naicker
Her mothertongue is Tamil
Working in Finance
Earning Rs.5 Lakh
Born in India
Living in Chennai, India

In Her Words
Hi this is mythily sree.i see myself as stable,confident,fun loving person who has a set of values.

My dad doing business, my mom is always sweet home maker. My sister got married and my brother working in pvt concern.

Am sure any boy stepping into our family would be very lucky and happy to dwell with us.

Lifestyle and Appearance

5 ft 7 in 171 cm
Wheatish Complexion
Average Build

Vegetarian

Doesn't Smoke

Doesn't Drink

Education and Career
Employment Status
Full Time

Family
Family Status
Middle Class
Has Children Of Her Own
No

Horoscope

Photos

What She Is Looking For
Age
28 - 39

Mother Tongue
Tamil

Religion
Hindu

Country Living In
India


Profile Managed By Self