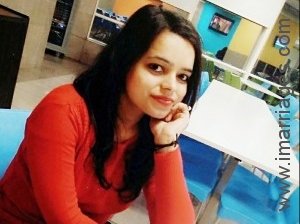 She is 26 years old
Never Married
Hindu, Brahmin, Not Specified
Her mothertongue is Hindi
Working in Other
Earning Rs.3 Lakh
Born in India
Living in New Delhi, India

In Her Words
I have created this profile for my daughter. She is very beautiful, intelligent and most importantly knows how to respect others. Basically belongs to Aligarh. Currently she is doing job in MNC in Gurgaon as well as doing B. Ed from MDU.

In our family only me and my daughter is there. Her father is no more with us. He was a doctor by profession in New Delhi.

I am looking for a good looking partner for her. Who will love her, care for her and stand by her throughout the life.

Lifestyle and Appearance

5 ft 5 in 166 cm
Very Fair Complexion
Average Build

Eggetarian

Doesn't Smoke

Doesn't Drink

Education and Career
Employment Status
Full Time

Family
Family Status
Middle Class
Father's Profession
Medicine
Mother's Profession
Homemaker
Has Children Of Her Own
No

Horoscope

Photos

What She Is Looking For
Age
26 - 35

Mother Tongue
Hindi

Religion
Hindu

Caste
Brahmin

Country Living In
India


Profile Managed By Parent/Guardian