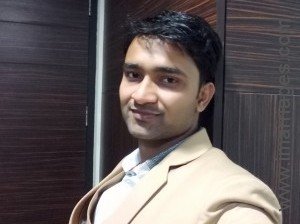 He is 27 years old
Never Married
Hindu, Maheshwari
His mothertongue is Hindi
Working in Commerce
Earning Rs.6 Lakh
Born in India
Living in New Delhi, India

In His Words
Thank you to visit profile of my son. He is very charming and funloving person. He has completed CA and associated with reputed CA Firm. He is with best visuals and a good dreamer. We believe to live together and feel for each other. Ao we expect the same from the desired one.

We comes from an upper-middle-class family with traditional values.

My preferred life partner must have very soft heart and must be well-educated.

Lifestyle and Appearance

5 ft 8 in 173 cm
Fair Complexion
Average Build

Vegetarian

Doesn't Smoke

Doesn't Drink

Education and Career
Employment Status
Full Time

Family
Family Status
Upper Middle Class
Mother's Profession
Homemaker
Has Children Of His Own
No

Horoscope

Photos

What He Is Looking For
Age
18 - 29

Mother Tongue
Hindi

Religion
Hindu

Country Living In
India


Profile Managed By Parent/Guardian