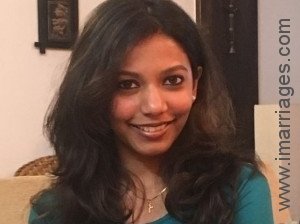 She is 27 years old
Never Married
Christian, CSI
Her mothertongue is Tamil
Working in Other
Earning Rs.4 Lakh
Born in India
Living in Bangalore, India

In Her Words
I am an introverted girl who loves pets and loves to travel and explore new places(even though I haven't done much travelling). I believe that a Christ centered life is what we need to lead as children of God, with an unconditional love towards our Lord and Saviour Jesus.

We are a family of three from Chennai and now settled in Bangalore.

I am currently working in the Clinical research field for a well known CRO in Bangalore as a Clinical Data Coordinator.

I like listening to music and reading about anything that interests me (topics can range from animals to bible history).
I also play the keyboard in church on Sundays and know how to play the guitar a bit.

We are a small family- Dad, Mom and I. We're basically from Chennai, but now settled here in Bangalore. Dad is quite a talented musician too :)

I am looking for someone who keeps Christ as his first priority. He should have good moral values, be patient, soft, well mannered, intelligent, kind,loving and humble.

Lifestyle and Appearance

4 ft 11 in 150 cm
Wheatish Complexion
Average Build

Non Vegetarian

Doesn't Smoke

Doesn't Drink

Education and Career
Employment Status
Full Time

Family
Family Status
Middle Class
Father's Profession
Retired
Mother's Profession
Homemaker
Has Children Of Her Own
No

Horoscope

Photos

What She Is Looking For
Age
27 - 36

Religion
Christian


Profile Managed By Parent/Guardian