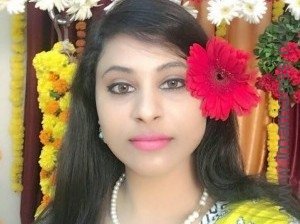 She is 32 years old
Never Married
Buddhist, Buddhist
Her mothertongue is Marathi
Working in Medicine
Earning Rs.4 Lakh
Born in India
Living in Mumbai, India

In Her Words
Father Dr.T.K.kamble was medical officer (anesthetic ) in gov. hospital .we have travelled raigad district,ratnagiri ,nagpure and now settled in mum since 10yrs.i m born and broughtup in Maharashtra .my father was the most amazing person in my life i miss him a lot.he expired in 2010.
Mother is a homemakes and catholic christen by religion.we have raised with the values of both of the religions.
About myself- I hav done BAMS.I m hard working individual ready to face obstacles in life, presently running a clinic.in future i wll like to start a wellness clinic which deals with the todays lifestyle related disorders.a detoxification.
my hobbies are reading,listning music ,watching TV.whenever I get a chance to sit in front of TV I look for pure entertainment and enjoy fullest..I m open by heart , like to explore new thing. I like to be in the wise limitations, lik to carry myself well, raised in traditional values but have modern outlook towards life. Looking to meet someone with similar interests........though nt nessesory if we click.
We are looking for a well mannered well cultured ,suitable match with whom I can connect and convers wel , Religion and city are the preferences.i firmly believes knowing each other and understanding the person and his family is nessesory as you spends the rest of life with him.
We are closely knitted family of
FAMILY-father -anesthetic (exp.in 2010)
Mother-BEMS , housewife
sisters- 1 -BAMS married resides in panvel
2-MA B-ed, MSW (Community development)working in panvel TISS.
3-Bsc-IT.studing MBA marketing.working in l.parel.
Brothers-1-B.E.Mech.working in nerul.
2-completed diploma in civil studing B.E

My family is as mentioned above

He should be well educated.

Lifestyle and Appearance

5 ft 3 in 161 cm
Wheatish Complexion
Average Build

Non Vegetarian

Doesn't Smoke

Doesn't Drink

Education and Career
Highest Education
Bachelors
Employment Status
Full Time

Family
Family Status
Middle Class
Father's Profession
Medicine
Mother's Profession
Medicine
Has Children Of Her Own
No

Horoscope

Photos

What She Is Looking For
Age
22 - 33

Mother Tongue
Marathi

Religion
Buddhist

Country Living In
India


Profile Managed By Self