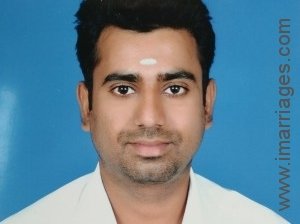 He is 30 years old
Never Married
Hindu, Adi Dravida
His mothertongue is Tamil
Working in Office Administration
Earning Rs.4 Lakh
Born in India
Living in Bangalore, India

In His Words
I studied in diploma course in hotel management now working Regus company as community manager. For more details pls contact me.

My family moderate I have one younger brother he is working at Apollo hospital.

Caste is no bar. I'm looking for well matured educated and working girl who is friendly.

Lifestyle and Appearance

5 ft 6 in 168 cm
Wheatish Complexion
Average Build

Non Vegetarian

Doesn't Smoke

Doesn't Drink

Education and Career
Occupation
Office Administration
Employment Status
Full Time

Family
Family Status
Middle Class
Mother's Profession
Homemaker
Has Children Of His Own
No

Horoscope

Photos

What He Is Looking For
Age
20 - 32

Mother Tongue
Tamil

Religion
Hindu

Country Living In
India


Profile Managed By Self