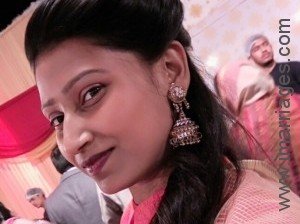 She is 27 years old
Never Married
Hindu, Dhobi
Her mothertongue is Hindi
Working in Arts
Earning No Income
Born in India
Living in New Delhi, India

In Her Words
Hi. Thanks for visit here. I'm priyanka. Belong to a middle-class family. Recently m preparing for a government job. So yet m nt working. We want a Delhi based boy. He should be well settle, responsible and jolly nature.

We have a middle-class, traditional family. I have one sibling. He's also government empolyee.

I would like to meet someone who is Delhi based well settle boy. He should be responsible, humble and jolly nature. Baki to likhne se kch nhi hota.

Lifestyle and Appearance

5 ft 2 in 158 cm
Wheatish Complexion
Slim Build

Non Vegetarian

Doesn't Smoke

Doesn't Drink

Education and Career
Highest Education
Honours Degree
Employment Status
Not Employed

Family
Family Status
Middle Class
Father's Profession
Government
Mother's Profession
Homemaker
Has Children Of Her Own
No

Horoscope

Things She Likes
Music
Bollywood • Easy Listening • Folk • Soft Rock
Reading
Adventure • Biography • Cartoon • Fairy Tale • Fantasy • History • Mystery • Poetry • Politics • Romance • Self Help • Short Story • Thriller
Film and TV
Action • Bollywood • Cartoon • Comedy • Documentary • Drama • Fantasy • Horror • Romance • Thriller
Other Interests
Cooking • Fashion • Singing • Writing

What She Is Looking For
Age
27 - 36

Mother Tongue
Hindi

Religion
Hindu

Caste
Dhobi

Country Living In
India

State Living In
Delhi


Profile Managed By Self