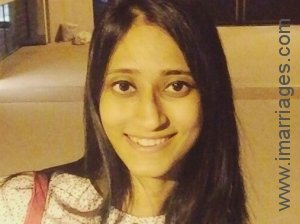 She is 28 years old
Never Married
Hindu, Maharashtrian
Her mothertongue is Marathi
Working in Finance
Earning Rs.9 Lakh
Born in India
Living in Mumbai, India

In Her Words
Hello, I have been born and bought up in Mumbai. I am a Chartered accountant and have worked with KPMG, a leading consulting firm as a tax professional for 2 years. I went to USA to pursue my MBA and lived there for 3 years. I have also worked with Ernst & Young, US. I have just returned to India and currently looking for a job. I wish to settle down in Mumbai. However, I am also open for options abroad.

Our family is based in Lower Parel, Mumbai. My father is a businessman and mother is a housewife. My younger brother is studying is US.

Please reach out to us if interested. Thank you!

Lifestyle and Appearance

5 ft 1 in 155 cm
Fair Complexion
Slim Build

Non Vegetarian

Doesn't Smoke

Doesn't Drink

Education and Career
Employment Status
Full Time

Family
Family Status
Upper Middle Class
Mother's Profession
Homemaker
Has Children Of Her Own
No

Horoscope

Things She Likes
Film and TV
Action • Adventure • Comedy • Mystery • Science Fiction • Thriller

Photos

What She Is Looking For
Age
27 - 33

Marital Status
Never Married

Has Children Already
No

Religion
Hindu

Smoke
No

Employment Status
Full Time


Profile Managed By Self