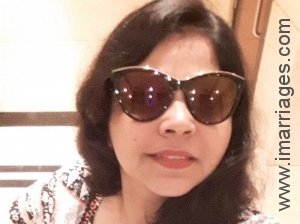 She is 32 years old
Divorced
Hindu, Kshatriya
Her mothertongue is Hindi
Working in Finance
Earning Rs.4 Lakh
Born in India
Living in Chennai, India

In Her Words
Well .. im a happy go lucky person who belives in taking calculated risks b it work or personal life !! Love travelling reading and cooking .. i would like to call myself a blend of traditional and modern values ... its like b a roman when in rome !!! Im an emotionally ibtense person and cannot see injustice .. i sometimes find it difficult to say no which in turn costs me dearly .. but lately have learnt the art of it ! Fun loving at the same time know my responsibilities. I like to take care of my health and walking 5 times a week is like me giving myself a gift .. a lover of kids and pets .. so on and so forth ....

My dad is no more .. its only me and my mom who is based put of my home town which is jodhpur in rajasthan. I did have an elder sister but she is no more too . Her son who is 18 years old lives with his father. Mom is a very God fearing person and at the same time likes to enjoy life anfd is a very strong woman and my inspiration too . Shes of moderate values who likes to weigh the pros and cons of everything .

Well .. im looking for someobe who's quite a responsible guy and well settled in his work. Someone who knows the right from wrong and can take sensible decisions in life . I am a happy go lucky person and would want my partner to have a great sense of humour .. someone who i can discuss various topics with .. he should value his traditions but at the same time not have blind faith or b supersticious ... brownie points if u can cook me a meal on the day that im unwell .. someone who loves his family and respects his elders .. but also knows that his wife would need privacy from the family . A guy who can understand that my career matters to me equally and would let me work post marriage if i choose to do so.

Lifestyle and Appearance

5 ft 6 in 168 cm
Fair Complexion
Average Build

Vegetarian

Doesn't Smoke

Doesn't Drink

Education and Career
Highest Education
Bachelors
Employment Status
Full Time

Family
Family Status
Upper Middle Class
Mother's Profession
Homemaker
Has Children Of Her Own
No

Horoscope

Photos

What She Is Looking For
Age
30 - 41

Mother Tongue
Hindi

Religion
Hindu


Profile Managed By Self