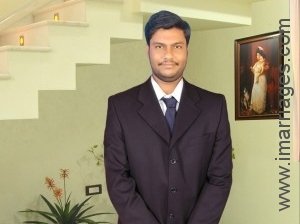 He is 26 years old
Never Married
Hindu, Kalinga
His mothertongue is Telugu
Working in Service
Earning Rs.25 Lakh
Born in India
Living in Visakhapatnam, India

In His Words
I am very cool and I need a perfect girl to lead whole my life. I got three lakes per month. I am interested to traveling and music shows.

Our family was an upper middleclass. We are three people in my family.

I'm seeking a partner who will take care about us.

Lifestyle and Appearance

5 ft 3 in 161 cm
Wheatish Complexion
Average Build

Non Vegetarian

Doesn't Smoke

Doesn't Drink

Education and Career
Highest Education
Bachelors
Employment Status
Full Time

Family
Family Status
Upper Middle Class
Father's Profession
Administrative
Mother's Profession
Education
Has Children Of His Own
No

Horoscope

What He Is Looking For
Age
18 - 27

Mother Tongue
Telugu

Religion
Hindu

Country Living In
India


Profile Managed By Self