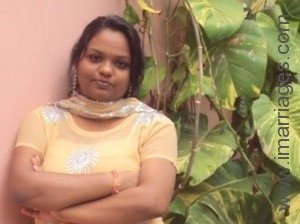 She is 33 years old
Never Married
Hindu, Brahmin, Not Specified
Her mothertongue is Oriya
Working in Education
Earning Rs.3 Lakh
Born in India
Living in Koraput, India

In Her Words
I am a hard working person. I believe life is a struggle so we have to focus on solutions always rather then thinking about problems.
optimistic jolly and a happy person with a positive attitude. These are the best words which describes me.
LOOKING FOR a cooperative person who can adjust easily with my life.

Lifestyle and Appearance

5 ft 4 in 163 cm
Wheatish Complexion
Average Build

Non Vegetarian

Doesn't Smoke

Doesn't Drink

Education and Career
Employment Status
Full Time

Family
Family Status
Upper Middle Class
Has Children Of Her Own
No

Horoscope

Things She Likes
Music
Jazz • Soft Rock
Reading
Biography • Humor • Poetry • Romance • Science Fiction
Film and TV
Cartoon • Comedy • Romance • Thriller
Sport
Cricket • Martial Arts • Soccer • Wrestling
Other Interests
Cooking • Fashion • Photography • Sewing

Photos

What She Is Looking For
Age
18 - 44

Mother Tongue
Oriya

Religion
Hindu

Country Living In
India


Profile Managed By Self