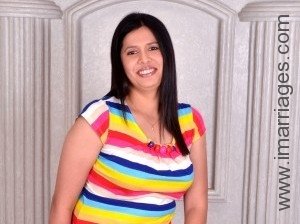 She is 35 years old
Never Married
Hindu, Panchal
Her mothertongue is Marathi
Working in Management
Earning Rs.6 Lakh
Born in India
Living in Pune, India

In Her Words
Loving, caring and sweet person. She has a positive attitude towards life.
A friendly natured & adjustable person with matured thinking.
Loves to spend time with family and friends.
Overall she is a Happy-Go-Lucky person with a strong heart and mind.
Comfortably manages activities on all the fronts - Career, Family, Friends etc.

Riddhi's Plans for the Future:

* Would like to support existing family Business/s.
* Would be happy to run own Language Institute.
* Open to learn new skills to explore avenues to work from home.
* Would love to travel all over the country and abroad.

Expectations:

* Well educated and well settled boy from cultured family.
* Matching to personality.
* Open minded and with similar interests in life.
* Values Family & Relations
* Ambitious with a good sense of humor.
* Loving, caring, understanding and charming.
* Someone who loves to travel and is open to exploring new avenues.

Lifestyle and Appearance

5 ft 5 in 166 cm
Very Fair Complexion
Average Build

Non Vegetarian

Doesn't Smoke

Drinks Socially

Education and Career
Highest Education
Bachelors
Employment Status
Full Time

Family
Family Status
Upper Middle Class
Father's Profession
Retired
Mother's Profession
Homemaker
Has Children Of Her Own
No

Horoscope

Photos

What She Is Looking For
Age
25 - 36

Mother Tongue
Marathi

Religion
Hindu

Country Living In
India


Profile Managed By Parent/Guardian