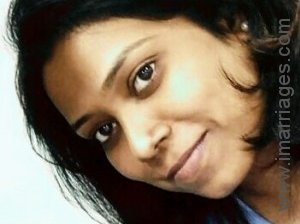 She is 31 years old
Never Married
Christian, Pentecost
Her mothertongue is Tamil
Working in Commerce
Earning Rs.5 Lakh
Born in India
Living in Bangalore, India

In Her Words
I am God fearing and spiritual. I am also fun loving and jovial person. Need a life partner who is God fearing,understanding, settled.

I come from moderate and upper middle class family with liberal values. I have one brother (married) and 2 sisters (elder married and younger unmarried).

My life should be a christian with modern values. He should possess good understanding, jovial and well settled.

Lifestyle and Appearance

5 ft 3 in 161 cm
Wheatish Complexion
Average Build

Non Vegetarian

Doesn't Smoke

Doesn't Drink

Education and Career
Employment Status
Full Time

Family
Family Status
Upper Middle Class
Has Children Of Her Own
No

Horoscope

Photos

What She Is Looking For
Age
31 - 40

Religion
Christian

Country Living In
India


Profile Managed By Self