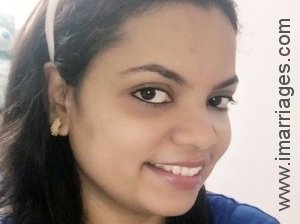 She is 28 years old
Never Married
Hindu, Nadar
Her mothertongue is Tamil
Working in Computers/IT
Earning Rs.2 Lakh
Born in India
Living in Chennai, India

In Her Words
I am an independent girl.
I love to travel and be with friends

Currently working in Chennai as Senior Business Presentation Specialist

I'm simple and modern. I respect traditional values of elders as well.
About me, I love to live my life in my own way.

Our family is kinda forward one, we respect and love each other so much.

I lost my dad few years back
My mom is an lovely lady
I have an younger brother.

In my family we are allowed to have our own freedom

Looking for someone who's friendly and supportive, broad minded, liberal and have modern sense.

Who have a good family and Who knows to cook and take care of himself.

Lifestyle and Appearance

5 ft 8 in 173 cm
Fair Complexion
Average Build

Non Vegetarian

Doesn't Smoke

Doesn't Drink

Education and Career
Highest Education
Bachelors
Employment Status
Full Time

Family
Family Status
Middle Class
Father's Profession
Government
Mother's Profession
Government
Has Children Of Her Own
No

Horoscope

Things She Likes
Music
Bollywood
Reading
Science Fiction
Film and TV
Action • Adventure • Cartoon • Fantasy • Romance • Science Fiction • Thriller
Sport
Basketball • Gymnastics • Horseriding • Martial Arts • Paintball • Swimming
Other Interests
Computers • Fashion • Painting

Photos

What She Is Looking For
Age
28 - 37

Mother Tongue
Tamil

Religion
Hindu

Country Living In
India


Profile Managed By Self