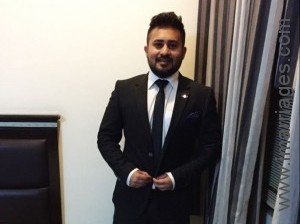 He is 27 years old
Never Married
Hindu, Brahmin, Sanadya
His mothertongue is Rajasthani
Working in Computers/IT
Earning Rs.12 Lakh
Born in India
Living in Other, India

In His Words
Saransh did his BTech in CS from Amity University,& started his career in Network Security from HCL Technology, Noida, after that he Joined Oracle Software, Noida,& which he may left shorty to an Reputed MNC, situated at Guru gram. We are nuclear family with moderat life pattern. We are currently Living in Rajasthan. We are in search of suitable match preferred from Rajasthan, but working in NCR. Regards.

Myself (Father) working in Private Organisation, as Sr Manager.
His mother in Teacher in Rajasthan Govt.
Having our properties, hour etc. At.
Rajasthan.

My preferred partner
From Rajasthani culture.& Working in Delhi/NCR.

Lifestyle and Appearance

5 ft 6 in 168 cm
Fair Complexion
Average Build

Vegetarian

Doesn't Smoke

Doesn't Drink

Education and Career
Highest Education
Bachelors
Employment Status
Full Time

Family
Family Status
Upper Middle Class
Father's Profession
Management
Mother's Profession
Education
Has Children Of His Own
No

Horoscope

Photos

What He Is Looking For
Age
18 - 29

Mother Tongue
Rajasthani

Religion
Hindu

Country Living In
India


Profile Managed By Parent/Guardian