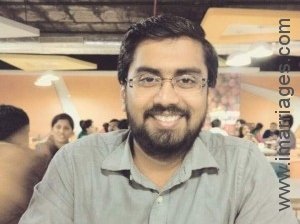 He is 28 years old
Never Married
Hindu, Brahmin, Not Specified
His mothertongue is Tamil
Working in Finance
Earning Rs.5 Lakh
Born in India
Living in Chennai, India

In His Words
Thank you for visiting my profile. I am a simple easy go person, who is ambitious in work and studies. I completed my Bcom in 2009 from vivekananda college and currently working as senior financial Associate in CGI India ltd. I am pursuing ICWA currently for developing my career and looking for all opportunities foe developing my professional career. For further details, please drop down a sms/whatsapp me. I am happy to answer all your questions..

My father passed away during 2003. My mom bought up me and my sister from then and now we are in a good position, thanks to all her struggles. We are looking for a groom for my sister too and let time decides who's marriage happens first. We are currently residing in Nanmangalam, Chennai..

I am looking for a caring partner, with whom I can travel my journey called life. Looking for a working girl, as both the boy and girl need to earn today,provides the uprising prices... I will be supportive for all her decisions.. All I want is a true love for me..

Lifestyle and Appearance

4 ft 6 in 137 cm
Fair Complexion
Average Build

Vegetarian

Doesn't Smoke

Doesn't Drink

Education and Career
Highest Education
Bachelors
Employment Status
Full Time

Family
Family Status
Middle Class
Father's Profession
Retired
Mother's Profession
Retired
Has Children Of His Own
No

Horoscope

Photos

What He Is Looking For
Age
18 - 30

Mother Tongue
Tamil

Religion
Hindu

Country Living In
India


Profile Managed By Self