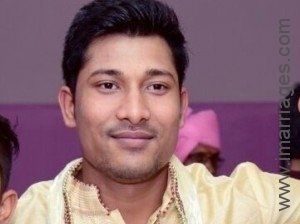 He is 27 years old
Never Married
Hindu, Kalar
His mothertongue is Hindi
Working in Science
Earning Rs.7 Lakh
Born in India
Living in Bhopal, India

In His Words
I am ambitious and working boy self-dependent focus in life, I have complete my B. E in Mech from Indore. Currently working in Tech Mahindra as Senior Design Engineer, Pune but deputy to Hyderabad for projects.
I like travel and music and sports.

My family is simply and small parents is well-educated, my family is from hoshangabad, mp, my father is a bussnes man and mother work in housewife, my brother is married and take care of our farming lands.

I'm looking for simple and smart girl also give value to family and traditions.
Someone who likes to be my friend first.
Help to take decisions and respect that.

Lifestyle and Appearance

5 ft 6 in 168 cm
Fair Complexion
Athletic Build

Vegetarian

Doesn't Smoke

Doesn't Drink

Education and Career
Highest Education
Bachelors
Employment Status
Full Time

Family
Family Status
Middle Class
Has Children Of His Own
No

Horoscope

Photos

What He Is Looking For
Age
18 - 29

Mother Tongue
Hindi

Religion
Hindu

Country Living In
India


Profile Managed By Self