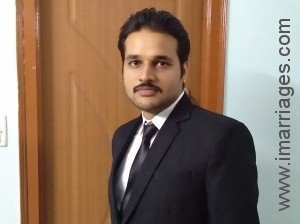 He is 26 years old
Never Married
Hindu, Brahmin, Not Specified
His mothertongue is Oriya
Working in Computers/IT
Earning Rs.16 Lakh
Born in India
Living in Bangalore, India

In His Words
I am a boy currently working a software lead in an MNC in Bangalore. I am very simple and down to earth with respect for everyone. I care for my family.

We are a small nuclear family belonging to the middle-class strata of the society.

We believe in moderate values at the same time having a liberal outlook. Since we are a very close family we expect the new member to be family value-centric.

Looking for a life partner with a broad mind who can spend her life happily with us. We are not looking for highly educated persons nor we are strict about job or employment.
We are looking for a nice human being.

Lifestyle and Appearance

5 ft 8 in 173 cm
Fair Complexion
Average Build

Non Vegetarian

Smokes Socially

Doesn't Drink

Education and Career
Highest Education
Bachelors
Employment Status
Full Time

Family
Family Status
Upper Middle Class
Father's Profession
Architecture
Has Children Of His Own
No

Horoscope

What He Is Looking For
Age
18 - 27

Religion
Hindu


Profile Managed By Self