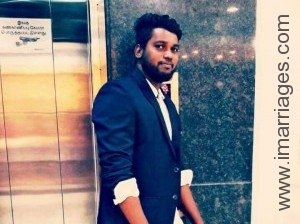 He is 31 years old
Never Married
Hindu, Other
His mothertongue is Tamil
Working in Service
Earning Rs.2 Lakh
Born in India
Living in Chennai, India

In His Words
I'm a soft spoken and jovial type. My hobby is playing cricket and I like travelling. We are settled at chennai. I finished MBA and currently working in private sector as a Administrative professionla.

My family is traditional type. We all settled at chennai. My dad is doing business and mom is home maker. My younger brother is working in chennai itself.

Iam looking a girl from good family back ground. We are not giving much preference to caste. Iam lookng a girl with life long relationship.

Lifestyle and Appearance

5 ft 7 in 171 cm
Wheatish Complexion
Athletic Build

Non Vegetarian

Doesn't Smoke

Doesn't Drink

Education and Career
Employment Status
Full Time

Family
Has Children Of His Own
No

Horoscope

Photos

What He Is Looking For
Age
25 - 29

Mother Tongue
Tamil

Religion
Hindu

Country Living In
India


Profile Managed By Self