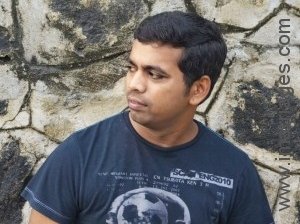 He is 27 years old
Never Married
Hindu, Mudaliar, Not Specified
His mothertongue is Tamil
Working in Computers/IT
Earning Rs.10 Lakh
Born in India
Living in Chennai, India

In His Words
My son is a software professional with a bachelor's degree currently working in reputed product development company in Chennai. We are a middle-class family with traditional values.

We are family of four members, residing in Tiruvanamalai. My wife is home maker and my older son got married and working in TVS Hosur. We are looking for a better half to my younger son.

We are looking for a girl with a decent family background who is working in Chennai or Bangalore.

Lifestyle and Appearance

5 ft 6 in 168 cm
Fair Complexion
Slim Build

Non Vegetarian

Doesn't Smoke

Doesn't Drink

Education and Career
Highest Education
Bachelors
Employment Status
Full Time

Family
Family Status
Middle Class
Mother's Profession
Homemaker
Has Children Of His Own
No

Horoscope

Things He Likes
Sport
Cricket • Swimming
Other Interests
Computers

Photos

What He Is Looking For
Age
18 - 28

Mother Tongue
Tamil

Country Living In
India


Profile Managed By Parent/Guardian