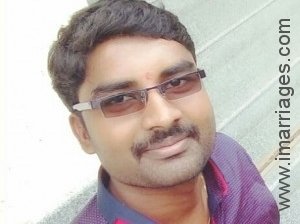 He is 29 years old
Never Married
Hindu, Nadar
His mothertongue is Tamil
Working in Computers/IT
Earning Rs.3 Lakh
Born in India
Living in Kanyakumari, India

In His Words
I am an Engineer. Currently I am living in Bangalore .

Joint family with good relationship with each other. Sister was married and brother has engaged.

I am expecting Good personality with caring mind girl. And should be graduated .Body Fair is not required because I am expecting fair in her speech and character not in face.

Lifestyle and Appearance

5 ft 4 in 163 cm
Wheatish Complexion
Average Build

Non Vegetarian

Doesn't Smoke

Drinks Socially

Education and Career
Employment Status
Full Time

Family
Family Status
Middle Class
Father's Profession
Retired
Has Children Of His Own
No

Horoscope

What He Is Looking For
Age
19 - 31

Mother Tongue
Tamil

Religion
Hindu

Country Living In
India


Profile Managed By Self