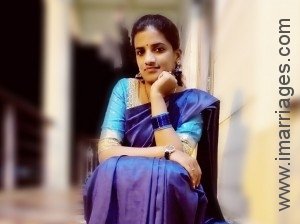 She is 26 years old
Never Married
Hindu, Iyer
Her mothertongue is Tamil
Working in Fine Arts
Earning Rs.1 Lakh
Born in India
Living in Mysore, India

In Her Words
I am fun loving girl yet a practical and broad-minded person. I have done my diploma in animation. I'm a classical dancer(bharathanatyam) dance is my passion. my dream is to get good knowledge in this art and go to the higher level do something in dance. I previously worked as Graphic designer in a company and later joined as dance teacher in a school and now having a break as I wanna concentrate more on dance.

I come from a traditional family of Tamil Brahmin. My father is a priest but yet a broad-minded person. My mother a homemaker. I have a yelder sister who is a divorcee(we are open to it) a younger brother who is a pu student.

I am looking for a life partner who can understand me my family as all the girls dream off. I wanna a person who is a broad-minded positive and who have faith in God and relationship. One who supports for me and stand by me. a person who can make me feel my home and a good friend. and I will be the same. And looking for a guy from mysore.

Lifestyle and Appearance

5 ft 2 in 158 cm
Wheatish Complexion
Average Build

Vegetarian

Doesn't Smoke

Doesn't Drink

Education and Career
Employment Status
Part Time

Family
Family Status
Middle Class
Mother's Profession
Homemaker
Has Children Of Her Own
No

Horoscope

Photos

What She Is Looking For
Age
26 - 35

Mother Tongue
Tamil

Religion
Hindu

Caste
Iyer

Country Living In
India

State Living In
Karnataka


Profile Managed By Self