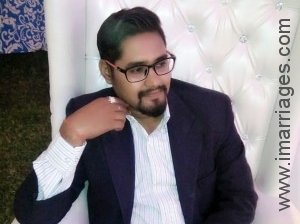 He is 26 years old
Never Married
Hindu, Prajapati
His mothertongue is Hindi
Working in Finance
Earning Rs.4 Lakh
Born in India
Living in Lucknow, India

In His Words
I am a kind-hearted and socially familiar and a self made man.

My family is moderate I have three elder brother one is married and another one is unmarried I have my lovely parents too.

Yes religion matter but no caste, yes they should liberal, must be modern, I am looking a girl who has kind heart and family type and educated decent girl.

Lifestyle and Appearance

5 ft 7 in 171 cm
Fair Complexion
Average Build

Vegetarian

Doesn't Smoke

Doesn't Drink

Education and Career
Highest Education
Bachelors
Employment Status
Full Time

Family
Family Status
Middle Class
Father's Profession
Retired
Mother's Profession
Homemaker
Has Children Of His Own
No

Horoscope

Photos

What He Is Looking For
Age
18 - 27

Mother Tongue
Hindi

Religion
Hindu

Country Living In
India

State Living In
Uttar Pradesh


Profile Managed By Self