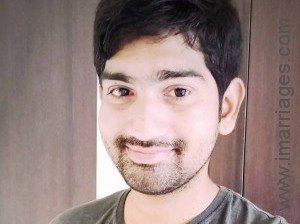 He is 29 years old
Never Married
Hindu, Kamma
His mothertongue is Telugu
Working in Computers/IT
Earning Rs.7 Lakh
Born in India
Living in Bangalore, Karnataka, India

In His Words
I am Sri , i am very motivared person currently working with India leading MNC in Bangalore working as software engineer. I am down to earth and understandable and trustworthy. i beleieve for standing up in any relation ship trust n understanding would place an imperative role hence looking for those two attributes. coming to my family im only son of my parents and i love travel. searcing here my life time angel who i could promise a amazing life to her. Catch me up for further information.

Thanks
Sri

My family consists offather mother and sister.sister got married and father n mother stays in my native place.

Caste doesnt be any problem for me mostly looking for understanding and trusty personality.

Lifestyle and Appearance

5 ft 8 in 173 cm
Fair Complexion
Average Build

Non Vegetarian

Doesn't Smoke

Doesn't Drink

Education and Career
Highest Education
Bachelors
Employment Status
Full Time

Family
Family Status
Upper Middle Class
Has Children Of His Own
No

Horoscope

Photos

Login To View Photo

Login To View Photo

Login To View Photo

Login To View Photo

What He Is Looking For
Age
18 - 38

Mother Tongue
Other

Religion
Hindu

Country Living In
India


Profile Managed By Self