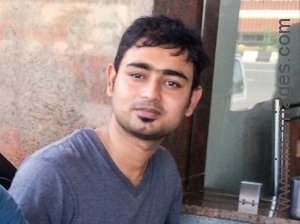 He is 29 years old
Never Married
Hindu, Yadav
His mothertongue is Bengali
Working in Computers/IT
Earning Rs.7 Lakh
Born in India
Living in Bangalore, India

In His Words
He is a bachelor and postgraduate in Physics and about to complete his PhD in Data Sciences from Indian Institute of Technology Indore. He is currently working as a Data Scientist with Datafoundry a Jaitra Software Solutions Pvt. at Bangalore. He has always been very studious and has immense passion towards science and technology. He has a broad liberal mindset with high moral values and a very helpful nature. His hobbies include sports, reading books and staying up to date with current affairs and touring.
He is my younger brother and my only sibling and our parent's lives at Alipurduar, West Bengal. Our father is a retired Indian Air Force personnel and our mother is a housewife.
We are looking for a fun-loving working girl, with a good personality, liberal and ready to live in Bangalore.


Lifestyle and Appearance

5 ft 7 in 171 cm
Fair Complexion
Average Build

Non Vegetarian

Smokes Socially

Drinks Socially

Education and Career
Employment Status
Full Time

Family
Family Status
Upper Middle Class
Father's Profession
Armed Forces
Has Children Of His Own
No

Horoscope

Photos

What He Is Looking For
Age
27 - 38

Mother Tongue
Bengali

Religion
Hindu

Country Living In
India


Profile Managed By Parent/Guardian