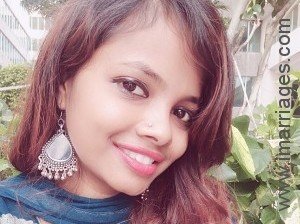 She is 31 years old
Never Married
Hindu, SC
Her mothertongue is Oriya
Working in Management
Earning Rs.3 Lakh
Born in India
Living in Chennai, India

In Her Words
Hi... My sister is very simply with traditional values. She respect everyone around her. She is sweet and happy every time. She works in Chennai.

I am the younger brother. Our family settled in Odessa. Dad works in mkcg Govt hospital. My mom is a homemaker.

We are looking for a guy who is well behaved and gud nature.

Lifestyle and Appearance

5 ft 4 in 163 cm
Wheatish Complexion
Average Build

Non Vegetarian

Doesn't Smoke

Doesn't Drink

Education and Career
Employment Status
Full Time

Family
Family Status
Middle Class
Father's Profession
Government
Mother's Profession
Homemaker
Has Children Of Her Own
No

Horoscope

Things She Likes
Music
Blues • Bollywood • Jazz • Rap
Reading
Cartoon • Drama • Fairy Tale • Mystery • Romance • Short Story • Thriller
Film and TV
Action • Adventure • Bollywood • Cartoon • Comedy • Drama • Family • Fantasy • Horror • Mystery • Romance • Science Fiction • Thriller
Sport
Cricket • Soccer
Other Interests
Cooking • Dancing • Gardening • Painting • Photography • Singing

Photos

What She Is Looking For
Age
31 - 39

Min Height
5 ft 7 in 171 cm

Has Children Already
No

Education
Honours Degree

Annual Income
Rs.7 Lakh

Residential Status
Permanent Resident


Profile Managed By Sibling