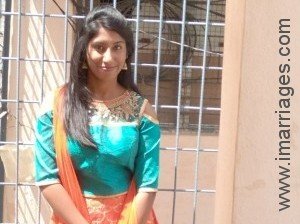 She is 23 years old
Never Married
Hindu, Brahmin, Iyer
Her mothertongue is Tamil
Working in Commerce
Earning Rs.2 Lakh
Born in India
Living in Bangalore, India

In Her Words
My friend is working with a private company, she's very friendly nature gal. She love to stay with family and she would like to enjoy her with freedom.

Threre are four members in her family, they lives in mulbagal Karnataka. Moderate family with good background.

He should be vegetarian (Brahmin) with good family background, he must be look good with kind nature .

Lifestyle and Appearance

5 ft 5 in 166 cm
Fair Complexion
Average Build

Vegetarian

Doesn't Smoke

Doesn't Drink

Education and Career
Highest Education
Bachelors
Employment Status
Full Time

Family
Family Status
Middle Class
Father's Profession
Commerce
Mother's Profession
Homemaker
Has Children Of Her Own
No

Horoscope

Photos

What She Is Looking For
Age
23 - 32

Mother Tongue
Tamil

Religion
Hindu

Country Living In
India

State Living In
Karnataka


Profile Managed By Friend